Photo Gallery:
Here's a collection of some of the photos I took while in Iceland. Paired with the photos are a series of entries taken from my travel journal to give a closer look at this trip.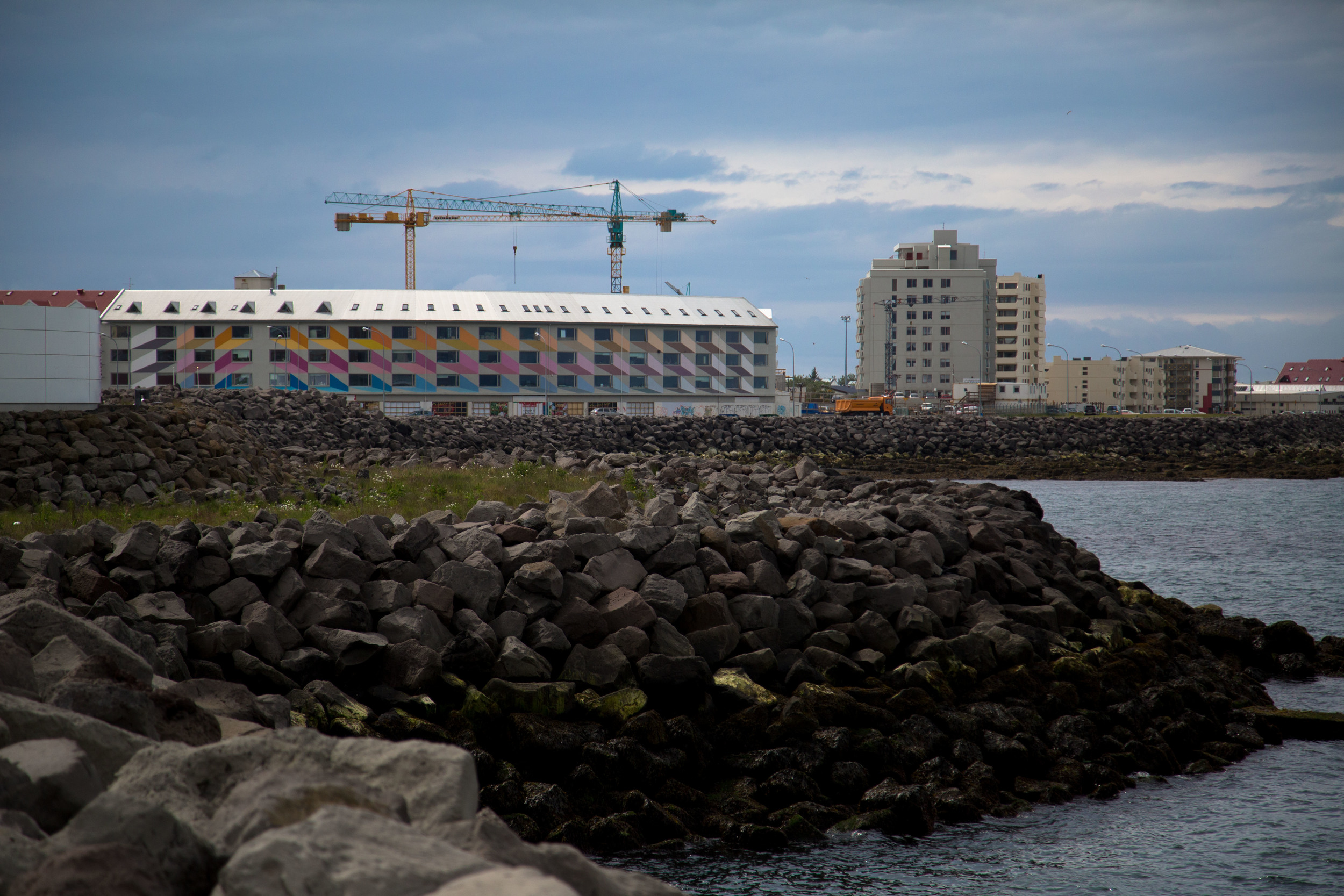 Final Days Before the Traverse: Akureyri
July 7th, 2015:
"Arrived to the bus station on time! ...too bad it was the wrong bus station.. had to stay in Akureyri an additional day to grab the next bus first thing the next morning."
A Final Feast...
July 7th, 2015:
"After walking around town, I've made some observations: Icelandic people love hotdogs".
"As a final feast before our traverse, [I] Decided to buy 20 hotdogs, buns, a foil charcoal grill, and a liter of chocolate milk and dined like kings"
Ducks Seen off the Coast of Akureyri
The "Before" Portrait
"...Every driver has laughed when I stated I was from Florida, how old I was, and what I was planning to do. I took it all as a compliment and a challenge"
Northernmost Point in Iceland- Hraunhafnartangi
"The bus ride from Raufarhöfn to the lighthouse was a pleasant one" but I wouldn't quite call it a bus ride, more of a carpool. Our mode of transportation to begin our traverse involved a plane to Reykjavik, a bus to Kopasker, a cargo van to Raufarhöfn, and a red hatchback to the lighthouse.
Our driver, also a horse ranch handler, graciously moved some boxes and a saddle from her trunk to make room for our backpacks, and took us up the gravel road towards the lighthouse
3km from the Arctic Circle
"The rain greeted us as we were dropped off at the path that would take us to the lighthouse. We threw on our rain gear, left our packs at the road, and headed north towards the lighthouse so we could officially begin our Iceland Traverse, South."
"We paused for a moment, took some pictures....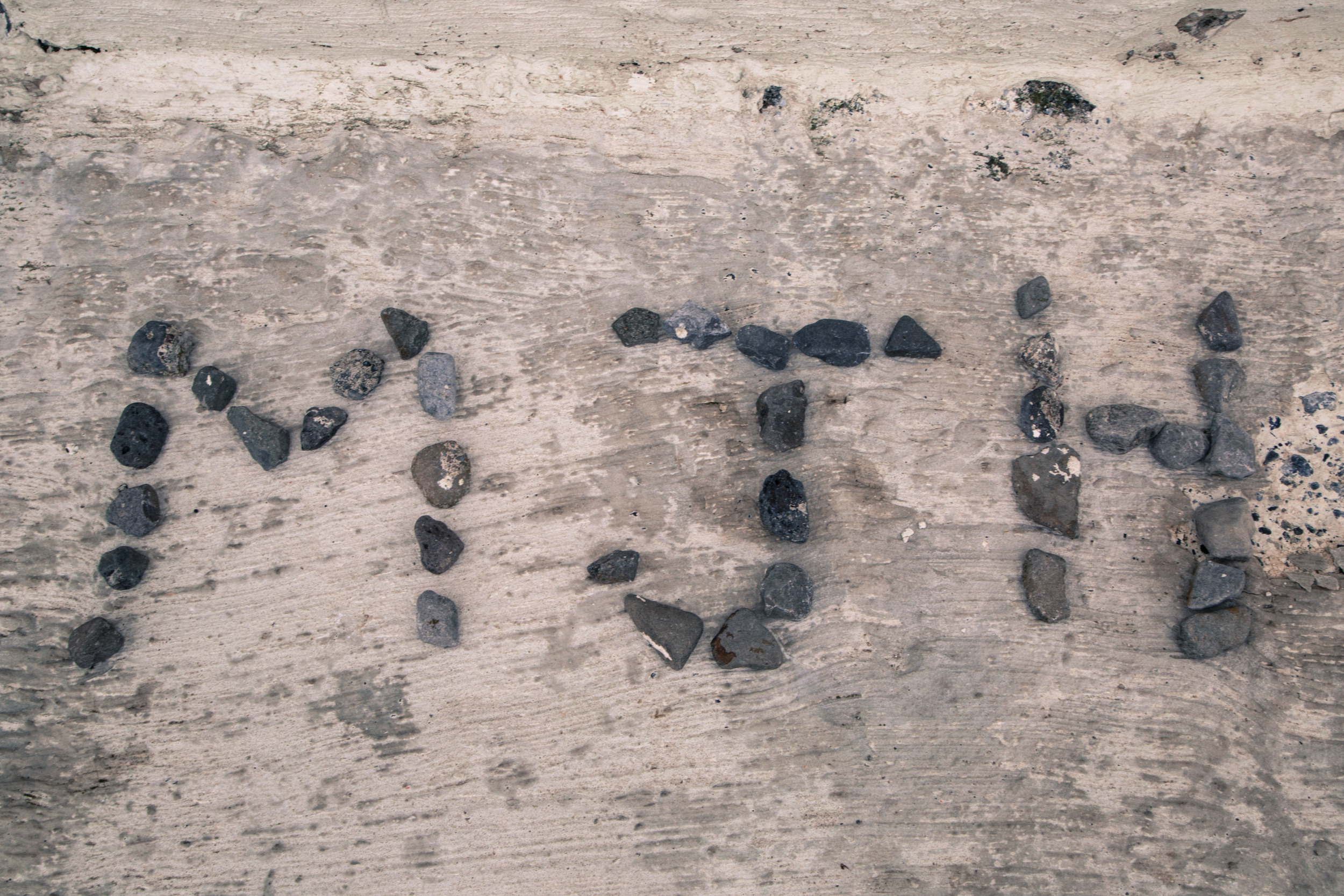 "...made our initials with surrounding rocks and placed them at the lighthouse...
Officially Heading South
"...and began our traverse. Officially heading south"
(Washed up fishing nets are taken from the shore to create a 5km path from the lighthouse to road F580.)
Arctic Turns near the Arctic Circle
"Artic Turns are incredibly territorial/protective of their nests, which are built under the rock. I quickly learned that the only way to protect myself from these birds were to wave my trekking poles above my head, to combat against their constant dive bombs."
"Rocky path follows left of the ocean. We continue walking for a few hours when reality sets in; A trip I've been planning for months has finally paid off and I am living it."
Camping off of F580
July 10th, 2015:
"I woke up this morning after a deep sleep at about 10:00am. The new time zone and constant grey sky has my sleep cycle completely thrown off"
Ice Cream Truck in the Middle of Nowhere
"Pausing at the top of a mountain to shed a layer, an ice cream truck stops behind us. A man gets out of the truck, and joyfully offers us a menu."
Despite being cold and low on Krona, We couldn't turn down a unique experience like this. The driver of the ice cream truck told me he loves his job; surprising people who least expect him.
F-580
The majority of Iceland's roads are gravel "F-Roads", which connect the most desolate places of Iceland to surrounding paved roads. These F-roads were our home for many days. It made for an efficient hike, but the hard ground was brutal on our feet after a full day of walking.
Mysterious Allergic Reaction
Maybe it was an Aspirin. Possibly, a tainted Clif Bar. Might have been the ice cream offered to me by a stranger on the road. By lunch, I had only ingested a small number of things, yet a mysterious allergic reaction had my face swollen like a balloon. Both the mystery and my puffy eyes gave Jeremy and myself a moment of entertainment.
A Change Of Scenery
"Leaving Kópasker, the sun finally began to shine. I was thrilled to go back to hiking in just a t-shirt"
"Along with the sunshine came a dramitic change in scenery. Beautiful coastal views and meadows of purple flowers ran along the trail."
"We stepped off the harsh, unforgiving road to walk on the path used by the sheep and local farmers."
Almost Stepped on This Guy
First Time Hitchhiking
I was 3 day behind intended schedule, and after a long day of rain, wind, and road walking, I decided to take a shot at hitchhiking. Eventually, I saw headlights behind me and stuck my thumb out: to my surprise, the first car that passed me stopped. I had a 100% success rate hitchhiking!
Asbyrgi
This was an incredible sight to see. The views of the Asbyrgi canyon were spectacular, but escaping the F-roads and returning to nature was just as satisfying.
When There's No Wind, There's Flies
Luckily, there are no mosquitos in Iceland. However, if you stumble upon a day where there's no rain or wind, you'll see just how many flies and gnats there are Iceland.
The Key to a Staying Happy
"I figured out that, along with sunlight and easy terrain, frequently eating and hydrating is a great way to to stay happy on the trail."
And sometimes, when thats not enough, you have to walk out onto a canyon ledge and admire where you are.
Taking Advantage of the Temporary Sun
Stopped for lunch on the top of mountain. Grabbed the goal zero solar panel to freshen up the camera battery.
Dettifoss
"Tired and beat up by the wind, we made it to Dettifoss- an empowering sight to see. So massive. So Windy. So Raw. I fished out my camera to capture this attraction despite the constant spray of water in the air created by the waterfall."
Vintage
Can anyone tell me where he got those pants?
Home Sweet Home
A giant advantage to backpacking in Iceland is that there is no need to bear bag your food; even found myself using my food as a pillow.
Sleeping Atire
It's roughly 3:30am in this photo. A buff headband and a night mask (graciously given to me by Delta Airlines) create an excellent solution for escaping the cold and 24 hour sunlight.
Sadly Returning to Town, With Nature Taunting us in the Horizon
Due to irregular weather patterns and large amounts of snow in the highlands, My second food package couldn't be delivered to its intended destination. Icelandic Search and Rescue also advised hikers not to enter the highlands, unless they are fully prepared to hike in severe weather.
Kókó Mjólk
Iceland's favorite chocolate milk combined with a brick sized Twinkie-like cake made for a suitable meal to ease the pain of being back in town.
Sailing in Eyjafjörður
Akureyri is located right on the coast of Eyjafjörður, the longest fjord in the country. This was the view from the top the hill, not far from our campsite. A group of children were taking advantage of this sunny day by taking their sailboats out on the water.
Coffee and the Dalai Lama
"To make others happy, practice compassion. To make yourself happy, practice compassion."
- His Holiness the Dalai Lama
Landmannalaugar
"After a 4 hour bus ride through the highlands, we arrived at the Landmannalaugar mountain hut, where I would start the Laugavegur hiking trail"
On the Laugavegur
"We were warned that a snow storm blew in, and hiking was only recommended if a GPS and proper gear accompanied the hikers, too. Because of this, 4 other hikers accompanied me to the next mountain hut in Hrafntinnusker."
The Start of a Snowy Hike
"The trail was visible thanks to previous foot traffic, but the majority of the trail was covered in snow. These paths climbed straight up landscapes; ignoring the "switchback" style I'm used to at home"
Geothermal Activity Seen in Landmannalaugar
These pockets of steam were an excellent way to warm up frozen hands.
Arriving in Hrafntinnusker
"We made it to Hrafntinnusker in good time, and the Landmannalaugar hut warden was absolutely correct: We were going to be sleeping in the snow."
"The Next two hours were spent digging a snow den, large enough to fit my tent into to protect me from the approaching wind and snow."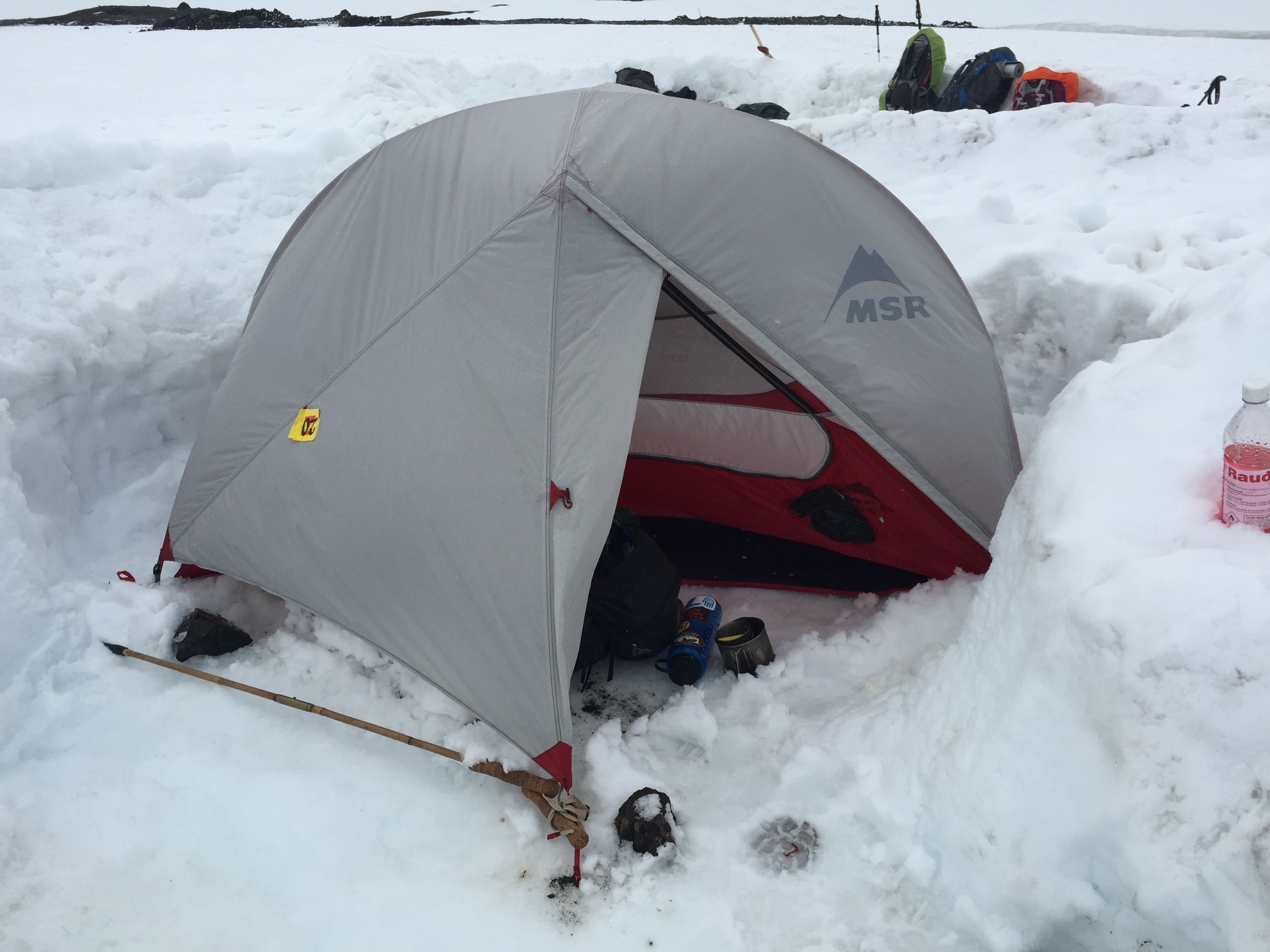 Stop for Lunch
"Stopped for lunch on top of the mountain behind a boulder to escape the harsh wind. This has to be the most beautiful place I've ever stopped at to have lunch."
Álftavatn Camp
"The mountain hut location is beautiful. Green mossy valleys are cut by small glacial streams, all of which is contained by the surrounding jagged mountains."
Heckla
"While soaking in the scenery, a border collie dashes across the valley, splashing in and out of the river, clearly loving life even more than myself. I've seen this dog at every mountain hut; tied to a pole in Landmannalaugar and chasing birds through the snow in Hrafntinnusker. She saw me (and my crinkling water bottle) and happily came inside my tent to play fetch."
Ramen, Tuna, and Hot Sauce
It's a perfect meal in the backcountry...or in a lava field tucked behind a boulder.
The Final Stretch
"This hike's variety and beautiful landscapes have made up for yesterday's barren trek. Crossing canyons, river crossings, colorful red fields, all while chasing the glacial volcano, Katla"